My Superior, Mistress Myckie Jo Katzanburg (before she decided, which was my fault, to take a well deserved vacation) asked Mistress Amber to communicate with Mistress Rosemarie to suggest (supervise an assignment) that it was time one of my fantasies should become a reality. Mistress Rosemarie picked one of my many fantasies that was about dressing up and being asked to be a Bridesmaid in a Wedding. So …. That is what I am to become.
Mistress Rosemarie and I had just graduated from school and one of her friends was getting married and she was to be the Maid of Honor. The problem was that it was only two weeks before the wedding and one of the Bridesmaids had backed out of the Bridal party over some stupid arguments that girls always seem to have. She was now short one Bridesmaid. Her girlfriend knew about my Cross-Dressing lifestyle and they often talked, many times in front of me, about how I should serve Mistress Rosemarie. Well they decided that since I like to dress in feminine clothing, that I would make the perfect Bridesmaid.
After protesting l agreed to do it, if they would keep my secret. I really did not think they would expose me and they would let me off the hook as soon as they found a real girl to be a Bridesmaid. I was dead wrong and thus began the most humiliating experience of my life.
I was made to be her Bridesmaid and wear a Bridesmaid gown and I was exposed to the entire wedding reception. Mistress Rosemarie smiled for two weeks and as I was humiliated over and over again and finally walked down the aisle in the Wedding Party. I was exposed to all of her friends.
The greatest humiliation of my fantasy actually occurred the week before the wedding. It was the Bridal Shower. All the horror stories of a Bridal Shower that I knew of as a man was to come true. The theme of the Bridal Shower was "The High School Prom". Each Girl that was invited to the Bridal Shower was very excited. Every Girl loves her Prom and her Prom Dress. I, on the other hand, was humiliated by the thought of wearing a Prom Dress and attending a Bridal Shower with a lot of Girls.
Saturday came and I was taken to the beauty parlor to have my hair "pouffed". The women at the salon teased me the whole time I was there. Then it was on to the Nail place to have my nails coated in a pretty shade of pink. Finally we were back in my bedroom and the horror really started. First my sissy-clitty cage was put on me because Mistress Rosemarie thought I would get excited by a lot of girls in pretty prom dresses and that I would excite myself and have an orgasm. Then came red crotchless panties, Pantyhose, a big white stuffed Bra, a corset drawn snuggly, a big white and pink Prom Crinoline to make my dress look like a princess's Prom Gown.
There were other accessories all to make me look pretty and to embarrass the hell out of me. Then the Prom Gown and I was ready for my first Bridal Shower. I was so humiliated, but here I stood in my Bridal Shower Prom Gown, complete with Corsage.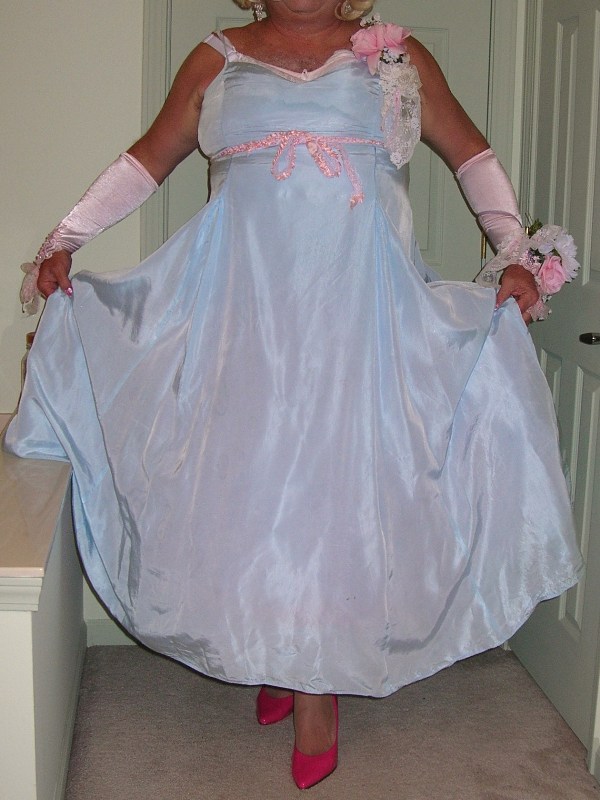 I was then led to the Restaurant and had to introduce myself to all these women and explain why I liked to Dress Like a Girl. The Giggling and Laughter was so embarrassing. Then Mistress Rosemarie made an announcement and asked everyone to help in punishing her sissy. I could have crawled into a hole. I thought it could not get worst, then it did. One of her girlfriends told her that she had just broke up with her boyfriend and that she was very "horny". Mistress Rosemarie told her I could help and that I would be glad to provide some oral stimulation. I was then dragged to the Ladies room, led into a stall and after she had me help her pull down her panties and me on my knees, I had my head pulled under her Prom Gown and stimulated her to a point of orgasm as she moaned and groaned in the Ladies Room. This was followed by several other Ladies asking for the same favor.
In between servicing any Lady that took me to the Ladies Room, I was asked to dance continually. It was one humiliation after another as they would tease me as we danced and grab my crotch to feel my sissy-clitty cage which by now everyone knew about. Then Mistress Rosemarie made another announcement. She told all the other Ladies that apparently their affections for me had caused my sissy-clitty to enlarge and was throbbing inside its cage. She asked if they thought I should be relieved of this throbbing and all the Girls clapped and cheered. As two of the other Bridesmaids held up my Prom Dress and another pulled down my panties, Mistress Rosemarie undid my cage. She made another announcement that if I could control myself for 5 minutes, I would be allowed to shrink into the corner like a sissy wall flower. But if I could not and messed all over the floor that I would have to clean my mess up by using my tongue once again. She started Milking and I lasted barely 3 minutes.
I reluctantly and embarrassingly got down on my knees and proceeded to lick up my own cum. This was a Bridal Shower that I will never forget.
Treatments Completed During This Assignment
---
This is a table showing the extra treatments that I subjected myself to for failing to finish this objective in a timely manner.
| Day | Daytime | Nighttime | Date |
| --- | --- | --- | --- |
| 7 | | | November 22 |
| 8 | | | November 23 |
| 9 | | | November 24 |
| 10 | | | November 25 |
I have completed my posting of my fantasy and listed the Treatments. I also must acknowledge that I was not completely successful in my treatments.
Day 7 – Sunday Night – I wore my Nightgown for most of the night, but could not sleep and took it off in the middle of the night.
Day 8 – Monday Night – Again I could not wear my Nightgown for the entire night. I was so tired.
Day 9 – Tuesday Night – Once again I was unable to wear my Nightgown for the entire Night.
Day 10 – Wednesday – I was supposed to wear my Bra during the Day. I was afraid to wear the Bra to work worrying that someone might see it. When I got home I immediately put the Bra on and wore it for the rest of the Day.
I did not ignore any of my Treatments and tried to do each one, but did not complete them completely as I was afraid of exposure. I accept that I did not complete the Treatment and expect additional punishment by My Superior, Mistress Myckie Jo Katzenburg and Mistress Amber as is convient for them.
I will stop the treatments at this point until notified of my punishments for this.