Since this was supposed to be my last visit to Fantasy Island and it had always been my life-long dream to be a Bride, I had planned to ask the Mistress of Fantasy Island if I could please be a Bride.
Not knowing really what to expect from my extension of visits, I figured that this might be my last free wish. So I decided that I should stick to my original planning.
"Mistress – Please grant my wish to be a Bride and may I dress up as the prettiest frilliest Bride ever and attend a my Wedding."
As always – she smiled and granted my Wish. I was whisked off by her assistants to the Bridal Salon to prepare for my Wedding.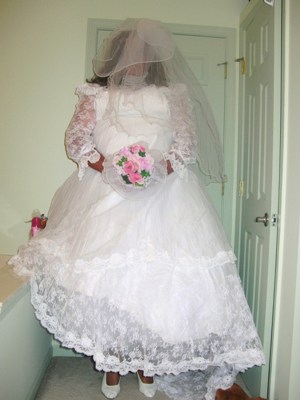 As I came from the Bridal Salon Mistress said I looked Lovely. Then Mistress walked me to the steps of the Church and as the Doors were opened and the music started I could see the Church was packed with My Mistress's friends. I was somewhat embarrassed to walk down the isle as a Bride, but it was my dream and I stepped out with courage.