A Success:
Mistress Amber has been so kind to allow me to tell you about the first small success I have had in my first two months of trying to become a worthy sissy of the "The Institute for Cross-Dressing Punishment". This is only a small one night completion of a punishment, but I am very proud of it. I want to thank Mistress Amber in my training in becoming an obedient sissy.
Saturday Night – 2009-May-30:
It is Saturday night and I am home for the evening. I have put on my ankle and wrist cuffs and my sissy clitty cage. I have also put on my new pretty Lilac Peignoir. I have included pictures so you can see. Isn't it really pretty and feminine. I just love it. As instructed by Mistress Amber when I dress in my sissy clothes at home I am to wear my big bra and I have made bigger water balloons that please Mistress Amber stuffed in my bra.
I have decided that tonight I am not going to just give in and accept a punishment and hope for the best. I am going to succeed tonight, not only in wearing my cuffs as the assignment dictates, but also in wearing my pretty peignoir all night. I am not going to take them off even if I lay awake all night long.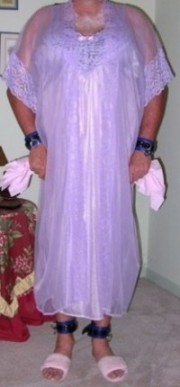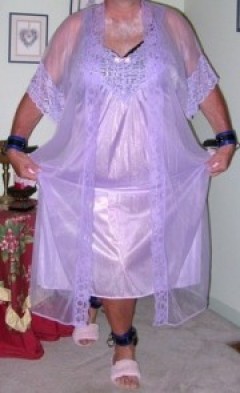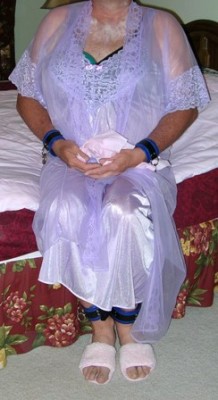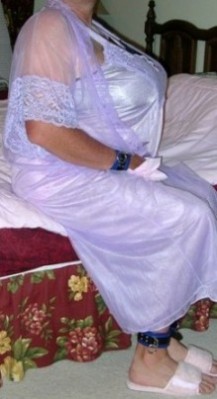 Sunday Morning – 2009-May-31
I am so happy. It is a new beautiful day and I did not violate the rules last night. No Confession – No Violations – No Punishment. I was awake for an hour or so during the night, usually after I had to get up to go to the bathroom. I did go back to sleep and slept for 5 or 6 hours at least which is so much more then ever before. I succeeded in wearing my cuffs and sissy clitty cage all night. Even better, I slept in my new pretty peignoir negligee including the new bigger and larger water balloons stuffed in my Big Bra. I am so thrilled. YEAH for sissy billy finally being able to do a simple thing like follow a simple night assignment given by Mistress Amber. I am so happy. I slept in my negligee all night. Mistress Amber, I hope you are happy for me, even if it is what you expected of me. I struggle so much with this. Please be happy for me Mistress Amber.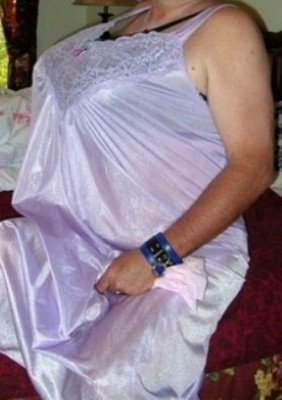 sissy billy still must follow the Standing Training Rules though.
I will still take my sissy baby bubble bath again this morning since I still owe several days of this punishment from the first week.
Thank You Mistress Amber. Please have a very good and happy day.