Mistress Amber requested me to show respect of Independence Day by honoring and doing my best impression of Lady Liberty. In honor of Lady Liberty I dressed up for Lady Liberty by putting on my diaper, stuffing it as much as possible, putting on my big girls big bra and stuffing the cups with extra large water balloons, putting on my wrist and ankle cuffs to show proper obedience and respect for Lady Liberty and then to show humility (an also shrivel my private parts so I can better control them for Mistress Amber) I poured a quart of ice cold water down the front of my diaper.
I do this to show proper respect for Lady Liberty and our country. I stand and salute the Statue of Liberty which represents the freedom and liberty which we all enjoy in the United States of America.
My first task was to put on my diaper and big girl's bra. I knew that I would be cooling my private parts and did not want to leak. I took two of my extra exorbitant diapers and put them on.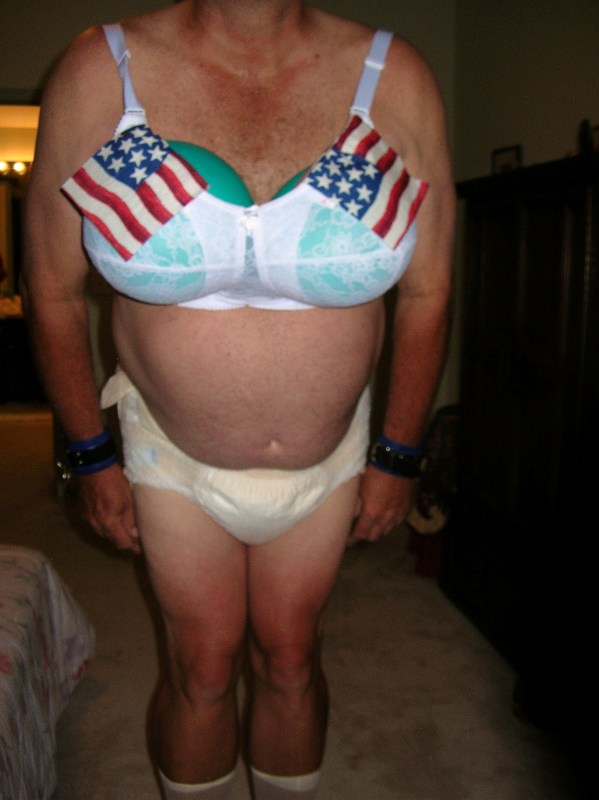 I then put on my preformed diaper to help compact the two diapers. I put on a rubber diaper cover, then my 2XL Pink diaper cover and finally my 4XL white diaper cover and stuffed it with as much material as I could. I pray that Mistress Amber thinks my diaper is sufficiently large know.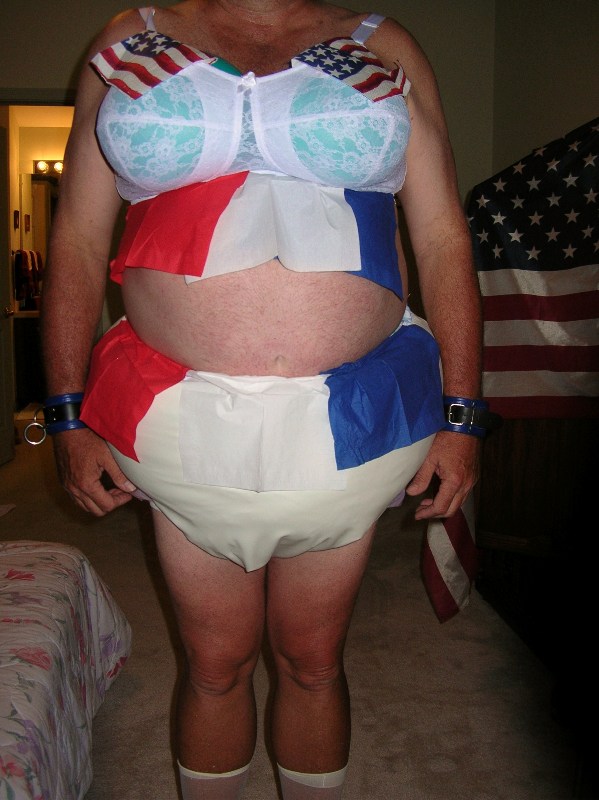 Mistress Rosemarie told me she is already ordering a spreading core diaper as Mistress Amber recommends because she said I very seldom manage to please Mistress Amber and I still have a long way to go in learning how to be a proper sissy baby. I stuffed as much absorbent material as I could in my diaper Mistress Amber. Please say that it is enough.
I then put my big bra on and put extra extra large water balloons in the cups. They are so heavy Mistress Amber that I feel I am front heavy and will fall forward if I am not careful. I also put my wrist and ankle cuffs on to show respect and obedience and white high heels as Lady Liberty should wear. I then decorated my diaper and bra with Red, White and Blue napkins as a patriotic gesture to Lady Liberty.
I then poured the one quart of ice cold water down the front of my diaper. It was very cold Mistress Amber and it provided the proper results on my private parts. I will be making no wishes tonight.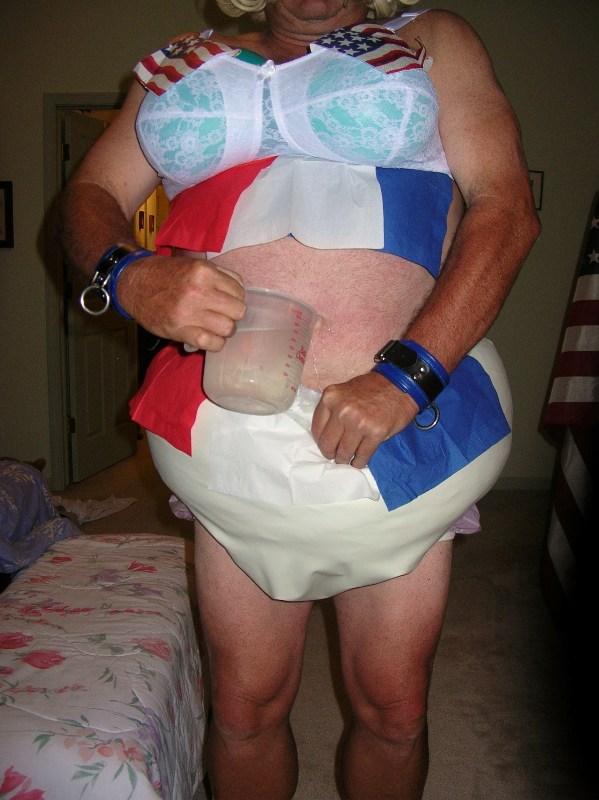 I then completed my dress-up in honor of Lady Liberty. I put on a sheer white dress and further decorated it in patriotic napkins
Finally before you stands Lady Liberty with torch and American Flag to properly honor our Independence Day Celebration.
I also try to honor Mistress Amber by properly performing this assignment given to me.
I did complete my honoring of Lady Liberty and picture taking on the fourth of July. It did take me into July 5th to post this, however, and I apologize for not posting this on the 4th for every-one's enjoyment.