"The Institute for Cross-Dressing Punishment" has become quite dusty and Mistress Katzenburg has requested that all good sissies report for Maid Duties. Mistress Katzenburg assigned all of us sissies to present themselves in their best Maids outfits and post a picture. The best presentable Sissy Maid will be exempt from the more humiliating and severe duties to Follow.
This sissy thought that she would not wear her very pretty pink serving maids outfit meant, but rather wear a more serviceable and practicable cleaning maid's outfit. I put on pretty panties and decided that I would also wear a diaper and a pink plastic cover. I did this so that I could better service Mistress Katzenburg's request if necessary and not have to stop for a Ladies Room visit which I often have to make. I put on a pink bra and stuffed it to medium fullness so as not to hamper possible cleaning duties. This was followed with pantyhose and 2″ heals for maid duties. Every good sissy maid must wear a crinoline under her outfit so she does look pretty if her Mistress decides to inspect and watch her cleaning. I put on a full white crinoline, pretty lacy white blouse and pink skirt. I then put on my white pinafore for cleaning to protect my skirt. I put on white lacy maids gloves and wrist-lets. I then topped this with a very pretty maids cap.
I present myself for inspection and assignment of sissy maid duties.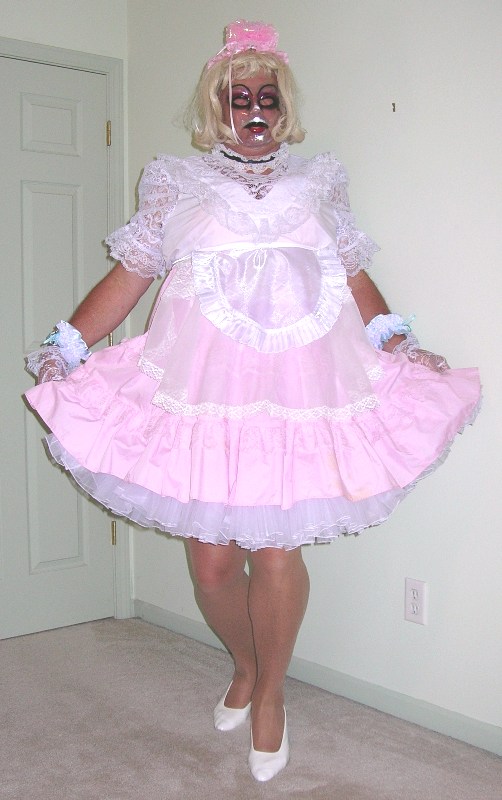 I have tried to look my prettiest as a sissy maid and still be functional as a cleaning maid. I hope I am picked as best in the sissy maid cleaning pageant.
For further exposures and pictures I have included other views and exposures in your choosing of sissy maid cleaning Queen.
Thank You for the opportunity to compete in the sissy maid Cleaning Pageant.
sissy billy