This is the third in a series of assignments to determine who is the worst sissy. The first assignment – Dusting Off – was a competition for us sissies to make a presentation and hopefully be excused for the next Level. I finished last in the polling and therefore had to move on to the next assignment of Sorority Bitches. I was the only one who failed this assignment and was to now have to complete an assignment at the third level. To compound my failure, I was not a graceful loser and therefore this assignment – babyface – was expedited and given to me to complete this weekend. If you read this assignment in one of the posts below, I think you would agree that it looks scary. It was not easy and as Mistress Katzenburg said, you do not want to be given a level three assignment.
This is a 24 hour assignment including the writing of the post and several awful tasks to perform. I accepted this assignment for failure of Sorority Bitches and started it at 4:00 on Saturday. My next 24 hours went something like this.
The first task was to strip. Not hard, but embarassing. Even a sissy like me can complete this and off to the bathroom I went.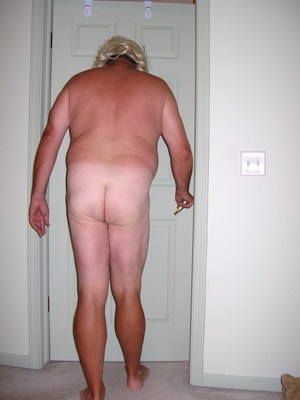 OK – Now on to 24 hrs of accepting my failure and learning from it.
The next task is rather simple if you have a full Bladder. Throw your pink panties into a bowl and pee in the bowl and save it for the last task. I am trying not to think about the last task.
It is 5:58 PM on Saturday, 7/10/10
Things start to get difficult now. A punishment enema is absolutely horrible because usually you have to hold it for a prescribed time frame and often the enema fluid contains soap or some other laxative. The ensuing cramps really make you regret doing something naughty. However, a cleansing enema is only marginally better. The enema fluid is clear water and you do not have to hold it, but you do have to take the entire 2 Quart enema and you do get cramps and you do rush to the bathroom. At 6:10 PM I started the first enema and it took several minutes to accept all of the enema into me. I took till 6:36 PM sitting on the toilet to finally get all the cleansing enema out of me. ICK. I started the second enema at 6:40 and the cramps were worst since I could not get all the enema fluid from the first out, this just added to it. Finally at 6:59 I was cleansed. Well, mostly. The fluid in the toilet was still pretty brown, but I was only directed to take two cleansing enemas and I stopped there. Enemas are not pleasant.
I was glad to be done with my cleansing, but now I must beg Mistress Rosemarie to spank me long and hard. As much as I knew it would hurt, I told her that I had been a very, very naughty sissy and I deserved to be punished. I pleaded and cried for 10 minutes and finally Mistress Rosemarie relented and told me to assume the position.
Oh, my little sissy ass really hurt. There were tears in my eyes and it was stinging.
There was no chance to rest though. She told me to stand up and get dressed per the assignment because she felt like going out.
First it was a cloth diaper. I taped in on tight with duct tape. Then put on another diaper and a bra. I also locked on ankle cuffs and wrist cuffs. Thank You Mistress for then allowing me to put on baggy jeans and a shirt.
Mistress Rosemarie dragged me to the car because I was afraid to go out. I knew someone would see the bra and cuffs and diaper on me. We headed to K-Mart. This is her favorite store and we shopped for and hour or so, maybe more. I was petrified. At least she let me take off my wrist cuffs. There was no way my shirt would cover these. I still thought everyone was looking at me. She made me take my own cart because there were things that I had to buy for myself. I bought diapers, perfume, dark lipstick, and then a new pretty nightie and robe. When we got to the checkout I had to go to a separate line. Everyone saw what I was buying and I was humiliated. The Lady at the counter was talkative and kept complimenting my on my good taste with the negligee. Everyone was listening and I knew they all were thinking I was a sissy and buying it for myself.
I was so glad to get to the car, but then Mistress Rosemarie said we were going to Dinner. We sat at a table for over an hour eating and I was humiliated by the thought that people were looking at me. Finally we headed home. I was so relieved.
Of course the task also said that my diaper must be wet before we got home. With emptying my bladder into the bowl with my panties, I had not felt like peeing as much as I tried. I begged to stop at the store for Gatorade, but that did not help. Finally I gave in and we went home with me wearing a dry diaper. She made me sit at the kitchen table drinking more bottles of Gatorade until I finally urinated into my diaper. I then went upstairs to the bathroom and stuffed my bra as required and put on my spreading core diaper which is very big.

I already had a wet diaper. Mistress Rosemarie said that I had not wet my diaper per Mistress Katzenburg's instructions, so she had an idea of how I might make up for this mistake. For the rest of the time of my assignment, I was to drink a glass of water every 1/2 hour. I also was given a liquid awful tasting laxative to help me digest my food. Within an hour my stomach was gurgling and I had cramps. The laxative was awful and I was so stuffed from my dinner and all the water now. I begged to go to bed and tried to go to sleep.
I could not sleep though. I was starting to leak pee because my bladder could not hold it. Then about 1:00 AM my other sissy clitty (rectum) started to ooze and finally exploded. My diaper was full. I laid there for an hour and finally woke Mistress Rosemarie and begged to take it off. She was mad, but relented and sent me to the bathroom to take it off and shower. I was so thankful.
Then as I was finishing, she came in and smiling at me said: "You don't think this is over do you".
She then proceeded to spank me and make my ass red again and I had to redaiper and dress all over again. This time I also had to put on my new Negligee. I always have trouble sleeping in my nighties and I knew I would be up for the rest of the night.
I then went back to bed and actually slept for an hour or two. I was so tired. Then the inevitable. In my sleep I lost total bladder and bowel control and without being able to hold it in, I urinated and shit again and completely filled my diaper. I laid in bed for an hour and then could not stand it anymore. I begged to change and clean up myself and once again Mistress Rosemarie relented.

She told me to deposit the diaper in the tub with the other one I had saved for use later. That really scared me.
Then Mistress Rosemarie said that since I had obviously emptied my body, it was only fair as a penalty that I refilled it. She had made me a breakfast of everything I hated most, Baby food with Lima beans on top, Apple sauce and baby formula. Everything very loose to make sure I went again and quickly. She even added the icky tasting laxative.

Breakfast was terrible and I gagged all the way through it.
Another shock was to come. Mistress Rosemarie gave me a present. When I opened it, I blushed and started to cry, because it was a very big dildo and I knew what she wanted me to do. She had been telling my little fake penis I had was too small. With a smile she told me to get busy with the task that Mistress Katzenburg had assignment. A little kissing and licking and sucking of my new big dildo.
I licked and sucked my dildo for almost an hour. I would lick and suck for five minutes, rest for five minutes and the suck again. Mistress Rosemarie commented that I really needed a lot more practice.
With my mouth sore from sucking, I was sent to my office for another Mistress Rosemarie task. I was to write to my sissy clitty relief diary, but this time there was no relief at the climax. Refer to sissy billy's relief diary for the lastest fantasy.
Mistress Rosemarie decided that since it was Sunday, Church was in order. I would not have to go out, but must sit in a straight back chair and watch on television. I also was continuing drinking water and already I had to go to the bathroom again. I went and got dressed for church.
Church was over finally about 1:00 PM. I only had three more hours and my 22 hours were up. I was exhausted and I looked it. Mistress Rosemarie said I could relax in a chair and read. She went and got me a book she had bought. The Claiming of Sleeping Beauty by Ann Rice. It was a book about submissiveness and obedience. I read for long time and then I exploded again. I once again filled my diaper, but it was 3:00 PM and Mistress Rosemarie said I must sit in it now for the rest of the time. I did and my crotch was itching and I squirmed which only squished the diarrhea more.
Then it was 4:00 PM and it was over, except for what I dreaded most. I would have to now take the urine soaked pink panties and stuff them in my mouth as I started to write. I started crying just thinking about it, but Mistress Rosemarie led me up to me office and I sat at the computer ready for my last task. I picked up the pink panties and let them drip for a while and then stuffed.
I stuffed the panties into my mouth. It was vile and disgusting. I started to gag almost immediately and tried to start typing. I failed and with a gag, spit the urine laced panties out of my mouth. I could not do it. To any sissy out there that has done this, I acknowledge that you are a far better sissy then I.
Mistress Rosemarie, feeling sorry for me, let me go change and dump the last of the soiled diapers into the tub. I had filled three diapers.

Mistress Rosemarie left me to my typing and with a smile said that she had been far more lenient then Mistress Katzenburg would be. She said that she regretted not having the teaching and strictness abilities of Mistress Katzenburg, because it was obvious that I required a stern hand and definitely a lot of more sissy training.