During the course of my training and punishment for Cross-Dressing as a sissy client of "The Institute for Cross-Dressing Punishment" a system of demerits was devised by Mistress Katzenburg to grade my failures and try to instill additional incentives to succeed for this sissy. Many demerits were added privately from Mistress Katzenburg to me and some publicly. I have many demerits and I had no idea how I would be able to get rid of them. I knew I would eventually be somehow punished for each and every demerit for each and every failure.
I wish to thank Mistress Katzenburg for presenting several possibilities for this sissy to make up for her failures. As a sissy will usually do, I chose the most innocent appearing of the challenges afforded me.
I chose to submit my application for the position of a Reference Librarian. Only time will tell whether I chose wisely or not. I drafted an initial application with the following thoughts.
Every Librarian I have known has been prim and proper. I put on my white bra, slightly stuffed (Most Librarians have small boobs), white panties, pantyhose, a white slip, white low heel shoes, and a librarian's dress. I also put a bow/ribbon in my hair. As I stood in front of my mirror I looked at myself in the mirror.
As I looked in the mirror Mistress Rosemarie walked in and asked if that was what I really thought a Reference Librarian for "The Institute for Cross-Dressing Punishment" would look like as the "Institutes" Reference Librarian.
I knew that if I submitted this picture with my application that Mistress Katzenburg would quickly put my application into the rejection box. Back to my closet of sissy accessories I went.
I sat at my desk and tried to imagine what a Reference Librarian for "The Institute for Cross-Dressing Punishment" would look like. Then I tried to imagine what the dress code Mistress Katzenburg would institute for the "Institutes" Library. She would have to be frumpy, stuffy, dedicated and a career oriented Librarian. Since the Reference Librarian would be a sissy client she would eventually have to appease the Head Mistress.
I am rather plump for a frumpy Librarian and with such a fat tummy I would certainly have very big breasts. Like must Librarians I would be constipated and therefore should be properly anally stuffed to avoid an accident if I should develop diarrhea. I am certainly dedicated and should wear cuffs for bondage if my supervisor finds me lacking in dedication. I have taken the liberty of adding a pink leach to my collar so that other sissy clients may lead me around in helping them.
I have blond hair and realized that a ditsy blond sissy would never be accepted as a Reference Librarian. I hunted for some time and did find a mousy brown wig more appropriate to a Reference Librarian.
So, I began to dress for my very important picture.
I put on my librarian white bra, white slip and panties – but I inserted my sissy vagina plug. Also cuffs were a must.
I then attached a pink ribbon leach to be led around like a sissy Reference Librarian.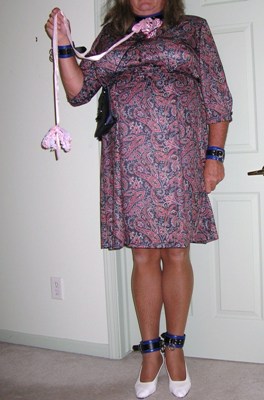 Finally – my Reference Librarian official Photo for my Librarian Tag.
I do not know what I will be asked to do as a Reference Librarian, but I will work harder than any sissy could be asked to do. I do hope to reduce my "Institute" demerits and to please all the Mistresses of "The Institute for Cross-Dressing Punishment" and any sissies that may ask my help as Reference Librarian.
I, sissy billy, do extend my application for this position.