It has been quite a while since I have related another of my summer experiences with Mistress Rosemarie. I was supposed to do this on a regular basis, but forgot and to be honest put it off since my summer vacation was mostly humiliating with many embarrassing activities, trips and things with her. Well the year is almost over and as all things do it has caught up with me big time. This past summer often found me in hot water, but none more so then when I tend to embarrass Mistress Rosemarie in front of one of her friends.
The specific day was a nice warm day in August and we were suppose to go to the beach with one of her friends from work. This was always fun and mostly stress free for me since Mistress Rosemarie was seldom inclined to embarrass me in public by having me do girlish things. It was Saturday and when we went to pick up her girlfriend she explained that she had her period, did not feel good and really did not want to go to a sandy beach. I had been looking forward to this and I lost it. I cried and before I thought, I said I didn't care if she had her period, she could stay home and we should go without her. No sooner were the words out of my mouth and the look on Mistress Rosemarie's face told me I had crossed the line. I knew it was insensitive and I knew I would regret it.
Mistress Rosemarie left the room with her friend and when they came back smiling they told me it was about time that I had my first feminine period. I blushed a deep red, but knew better then to say a word. Well out came the feminine sanitary products and their fun began and my misery started. Her friend seemed to feel better that she had a girlie sissy to commiserate with. I was very much embarrassed by this day that I had hoped never to have to relay it for all to hear.
I somehow never learn my lessons though. Last week I made the same awful insensitive mistake again with another one of her friends because it interfered with us going out to a party. She was totally livid and then she remembered my unlearned lesson from this past summer.
Well, this has now become – How I spent my summer vacation – 4 and also how I spent my Christmas vacation – 1.
This past Tuesday Night I came home to find Mistress Rosemarie with both of her girlfriends that I had embarrassed by being insensitive about their periods. They reminded me about how I had said to all of them that I did not see what the big deal was about a little stomach ache and having to wear a rag between there legs. Well, Mistress Rosemarie then smiled and said that it was about time that I realized what a big deal it was.
I was led into the bathroom and spread out on the counter was my impending lesson.

I was to have my first feminine period and I would certainly learn what the big deal was after 24 hours. I groaned, but there was no way out of this now.
They told me my period would start at 11:00 PM this evening and end tomorrow night at midnight.
The girls had come up with a way for me to experience a girl's period cramps. Enemas would certainly do the trick they said and I knew this was not going to be pleasant. They gave me a sheer peignoir robe so nothing would be hidden. I was to be given a two quart enema at 11 and if the cramps were so bad I could not stand them, then I would be allowed to got to the toilet, but the enema fluid would be replaced with an equal amount. I would also have clothespins attached to my nipples so they would become sore just like a women with her period. This would go on till midnight.
I was bent over and the feminine enema nozzle was shoved roughly into my sissy vagina and I cried as they laughed at my discomfit. Then a pin was snapped on each nipple as I cried again as they giggled.
Down on the bed and the enema fluid was let loose. As it always does, the cold water rushing up my rectum into my stomach caused instant cramping and much discomfit. I was bloated in a matter of minutes and lay as still as I could on my bed. They laughed and as they were leaving me to my discomfit told me to call if I needed to go to the toilet. In ten minutes the cramps were horrible and in twenty I was crying and squirming on the bed, but the cramps would not subside. After 25 minutes I cried out for mercy and they led me to the toilet to relieve myself. I was given only one minute to relieve myself and was then led back to the bed.
Mistress Rosemarie then said she did not know how much I had released, so therefore I would have to be given a full 2 quart enema again. I cried that she knew I always retained at least have after a minute, but she said too bad. She opened the clamp and the flood of enema fluid slammed through my system with even greater cramping. I was crying almost immediately and within 15 minutes I was begging to go to the Toilet again.
I was filled up again twice more in the hour and when I was finally allowed to sit for 5 minutes on the toilet at midnight, I know I still had at least two quarts left in me.
Finally I was led back to the counter and a sanitary Napkin and tampon were waiting for me. On the Sanitary Napkin was splattered red jam to simulate my period.
I was forced to put the soiled sanitary napkin in my panties and then one of the girls inserted a tampon up my sissy vagina. Oh how it hurt at first. In fact, I never did get use to having a tampon up my sissy vagina. I pulled up my panties and put on my negligee to sleep in. I was really hurting with the cramps that continued.
Every hour I was also awoken and given a large glass of water to drink which bloated me further and my stomach ached even more. This continued for 24 hours.
I was then told that for the next 24 hours I would have to change my pad and tampon everytime I went to the Ladies Room, but at a minimum at least every two hours.
It was 2:00 AM when I was awoken and led to the Ladies for my first sanitary period changing. First my soiled pad and tampon were removed and new put in its place.
This happened twice more during the night and it was so disgusting and I could not sleep. They told me that a girl always has trouble sleeping with her period, so why shouldn't I.
Finally it was morning and I was dressed for work. Another new pad and tampon, a very small bra so I would feel my breasts all day and be totally uncomfortable were put on and in me. They also gave me hand fulls of sanitary napkins and tampons to carry with me. I put them in my backpack, but I was told I had to carry a pad and tampon in my pocket just in case. I was so self conscious that some one would notice.
Finally my day at work was done and that included going to the restroom and changing my pad and tampon every two hours. I returned home with my soiled feminine products in baggies to show that I had done it. It was really disgusting.
After all that, I was finally allowed to change into a comfortable soft nightie to relax if I could the rest of the night. I curled up on the coach because my stomach still ached and watched a movie.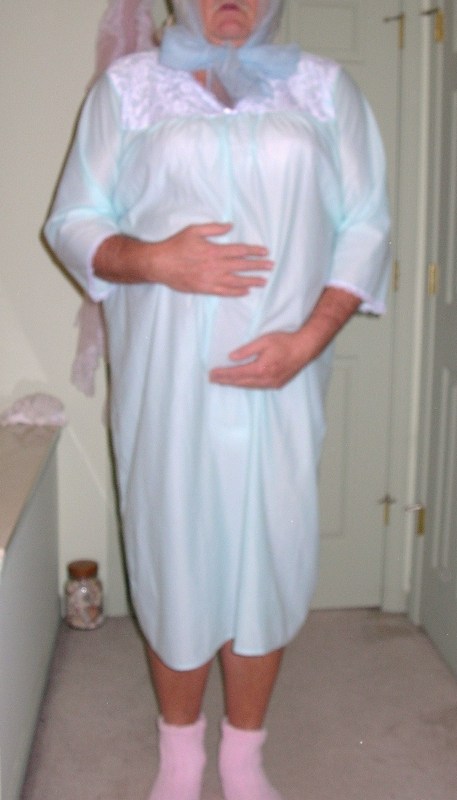 At last it was midnight and my period was over, but first I was led into the bathroom to see some of the tampons and sanitary napkins I had used. What a pile and that was only about a third of what I used. She said she would leave them there for a day or two to remind me of period.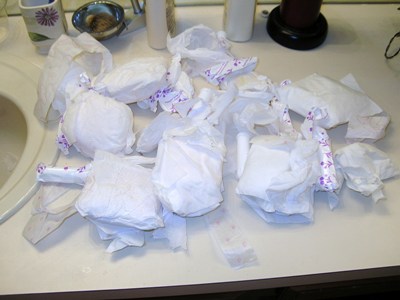 Mistress Rosemarie asked me if I thought a feminine period was still not so big a deal. I cried and said I was sorry and that I would never make fun of a girl with her period again.
Then, as always, she dropped one last bomb. Mistress Rosemarie said that once a girl gets her period she has it for the next 40 years. Therefore, since I now had my first period, it was only fair that it continued. So – 28 days from now – the 28th of every month, I was going to get a visit from my menstrual friend and I would have my period for three days each month and would have to use the necessary feminine products with the middle day being the heaviest flow requiring both a pad and tampon.
I was then sent to bed with tears in my eyes and definitely not looking forward to my monthly "friend" visiting.
A big sissy like me should learn to keep her mouth shut.