This is the fourth week of the Soap Test and it seems like it will never end.
Camay (Pink Moisturizing) is the Soap to be tested this week with the punishment day rescheduled for Tuesday as a result of my ill-advised whining.
I started using the Pink Camay on Monday, but was again thinking of my punishment to come on Tuesday. It is an awful punishment using the soap as a soap-paste. It tastes terrible and stings you mouth and lips. If only I had not whined. I put on one of my favorite pink negligee for the documentation.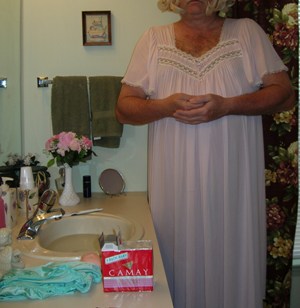 I looked pretty and I held up the soap of the week – Pink Camay and I also picked out the pretty lace light blue panties I will wear today.
I start the test week by undressing and taking a shower using the Pink Camay Soap and my new pink soft fluffy washing sponge. At the end of the week I will judge the soap for smell, soapiness, cleaning ability and whether the smell was strong enough, lasted all day and attracted feminine attention. Each category will be judged from 1 (weak, poor) to 5 (strong, effective).
I did brush on Tuesday, because it is the rules. I used the soap of the week for my soap-paste and brushed thoroughly for five minutes. Tuesday came and went, but it was another terrible punishment day.
I took my shower and then dressed for work. I wore my light blue panties. It was even worst this week because I had my period and I had a lot of cramps and had to go to the Ladies Room often. I wore a Sanitary Pad in my panties all week. Because it was my period I also wore panties and panty girdle all week to keep it snug. The week was terrible because I was cramping bad from my period and was brushing my mouth with soap-paste. UGH !!!
With an awful taste in my mouth, I finished dressing and went to work.

The awful taste is always in my mouth now. It never seems to go away on my soap-paste brushing day. I repeated the process again at Dinner. I was dressed in a very pretty maternity outfit I had bought because of my big tummy. I does make me look pregnant doesn't it. I was also wore a stuffed bra which I added to my feminine ensemble. I did look lovely.
I was sent up to the Ladies room to brush my teeth – again. It was the same as the morning and the soapy taste was instantly back in my mouth and the sore lips and mouth were stinging once again.
It was bedtime and I had to do another soap-paste brushing before I was allowed to go to sleep. I dressed in a long light blue brushed velvet nightgown. It is very soft and comfy, but I hated it tonight because it meant another soap-past brushing. I went to the Ladies Room.
I loaded my tooth brush up with the Camay soap-paste and started to brush. The taste was disgusting and a horrible added taste from my Dinner brushing. Five minutes went forever.
I spit out all that I could and went to bed thank-full that it was over.
It is now the end of the fourth week of testing and the results follow.
Test Sample: Pink Camay Testing is on a scale from 1 (poor) to 5 (excellent)
| Test | Rating (1-5) | Observations/Remarks |
| --- | --- | --- |
| Smell | 3 | Pleasant smell, but fairly strong up close on my skin. I did not smell it entering the Ladies Room. |
| Soapiness | 4 | It was the very soapy and bubbly. |
| Cleaning | 4 | I felt clean, so I guess it works well. |
| Lingering smell for the girls at work | 3 | Pleasant girly fragrance. I could smell it on me, but I was not worried that someone else would. |
Soap-Paste Test Sample : Pink Camay Testing is on a scale from 1 (poor) to 5 (excellent)
| Test | Rating (1-5) | Observations/Remarks |
| --- | --- | --- |
| How it tasted | 4 | It was a taste that I had tasted before and it brought back memories of past punishments. Bad |
| How long did it last | 3 | It lasted all day and I tasted it on my lips. It lasted a long time. |
The soap-paste brushing was average bad. The same as all the soap-paste brushings. They all tasted horrible and I never want to be punished like this again. The really bad thing about this week was that I also had my period and it was a really really bad period. I ached all week and cried a lot.
Even worst, instead of my testing and punishments being over a new soap was added for a 5th week by Mistress Katzenburg. I went shopping on Thursday for Japanese Cherry Blossom from Bath and Body and it was very humiliating. The store smelled very girlie and feminine and I was the only male in it. Also, as a further punishment, I shaved myself in a humiliating way. I am so afraid that I will really smell like a girl next week. I am laying awake at night thinking about smelling all girlie. I also had to buy all kinds of girlie creams that I must also apply.
Next weeks Test Soap will be Japanese Cherry Blossom. I now can only hope that my soap testing and punishments are not extended further.