If I were to visit Fantasy Island I would want to serve my Mistress dressed in my prettiest Pink Maid outfit and please her with cleaning the house.
But first before I leave for Fantasy Island I should explain. At the beginning of the Summer I was looking at a very busy schedule with Work and Personal commitments. I asked Mistress Katzenburg to grant me a leave of Absence to fulfill what was required of me. She was kind enough to grant me this request, but I knew there would be consequences. And there are. I have requested reinstatement in "The Institute for Cross-Dressing Punishment".
There are some home assignments and naturally a dress code. I am fulfilling this as I type. Of Course it will not be pleasant, but I deserve whatever is assigned me for being a Cross-Dressing Sissy, no matter had bad or disgusting it may be.
Also, I am to visit Fantasy Island once a day for the next fourteen days and each day I am to live out a new sissy Fantasy and post it for all to see and to be humiliated for my actions.
Today I am a Maid performing whatever is required by my Mistress.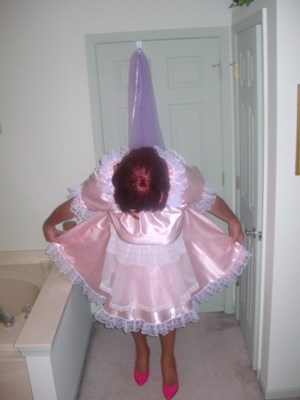 I asked how I could please Mistress Rosemarie and she was quick to answer. I was soon washing the clothes, scrubbing the toilets and dusting the tables. After 1/2 hour my feet were throbbing from the high heals and I was exhausted. It had been a long time since I had cleaned the house in full maid's outfit.
I did feel very pretty though in my Pink Frilly and Lacy Maids outfit. I feel so feminine in crinolines.
When she next came I started to complain about how much House Work there was to do. With a smile she took my hand and led me to the Ladies Room saying she had something less stressful and exactly what a sissy would appreciate. I knew I never should have whined. I will never learn.
In the Ladies Room on the counter was a Big Fat Dildo. She told me to get busy practicing as a Sissy never knows when being a good sucker may come in handy or mouthy as is the case in this instance.
Housework and Practicing my Service to Mistress is Hard, but it would be just what I asked for on my Trip to Fantasy Island. There are so many Fantasies and only 14 Days to do them.