From the time I was young I always wanted to go the Girl's Pajama Parties. They always seemed like they would be a lot of fun. I would hear my older Sister talk about the Pajama Parties she went to and how all the girls would wear pretty, frilly, lacy sexy Baby Doll Negligees. When my Sister had her Pajama Party I peaked and when I saw all her girl friends wearing those feminine Baby Dolls, I wished from that day to this that I would be invited to one. It never happened, since Pajama Parties were only things that girls did. I was so Jealous.
Naturally, when I had the opportunity to travel to Fantasy Island one of my first wishes was to attend a Girl's Pajama Party. I was soon to regret my wish.
Mistress bought me a very feminine frilly red Baby Doll Negligee and frilly lace Panties. I got very excited about going to my first Girlie Negligee Party.
Until …………..
Mistress told me that even though I was a sissy that since I had so little control over my sissy clitty that as soon as I saw her girlfriends that she had invited to the Pajama Party in their pretty feminine Negligees, that I would embarrass her by getting an erection. Out came the sissy-clitty cage. I really dislike wearing it because it is so confining and I always get an erection and then it really hurts as I swell.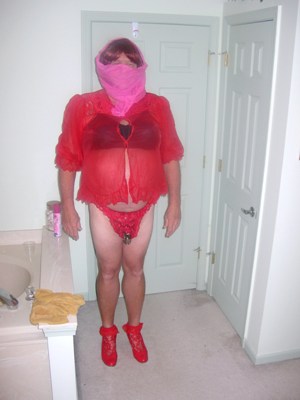 I really felt humiliated when Mistress took up close pictures of my lacy panties and my sissy-clitty cage.

To make sure I knew my place, a big sissy was drawn on my exposed body to further embarrass me.

I felt really pretty though in my feminine Baby Doll Negligee as I looked at myself in the mirror. But, as Mistress took my hand and started to lead me from the Bedroom downstairs to the Living Room I suddenly realized that I would be parading in my feminine Negligee in front of a lot of women. I had never exposed myself before or dressed in front of anyone except Mistress. I was blushing when we entered and when all the girls started to clap and laugh and giggle at me, I felt really silly and was totally humiliated.
Then the fun really began.

As the Ladies all relaxed and talked like girls will, I was put to work with a serving tray and waited on the Ladies, running back and forth to the kitchen getting drinks and snacks for them. When I wasn't serving I stood at feminine Attention (Heels together, knees together, straight back, breasts pushed out as far forward as I could with limp wrists no lower then my tummy and eyes forward) until I was beckoned. They also took liberties in poking and touching me and swatting my sissy-clitty cage until I cried and then would laugh and call me a sissy baby. I was so embarrassed. My first girlie pajama party was not as much fun as I thought it would be.
The Ladies were having a great time as they used me as their sissy boy toy. I was really tired when Mistress told me I should come with her to freshen up. Finally, I thought my Fantasy turned sissy nightmare was ending. In the Ladies Room I made myself pretty again and then she led me back and into the downstairs Ladies Room to be confronted with a Rubber Dildo and Rubber Vagina sitting on the counter. I gasped as I knew what was coming.
With the girls giggling and chanting "sissy-sissy-sissy" I was forced to practice first on the Vagina and then the Dildo. I don't think I had ever been so humiliated in front of so many Girls.
When the Girls thought I had practiced enough they then took turns taking me upstairs to properly serve each of them in private. When they would bring me back to the Living Room they gave a report of how inadequate I was so as to completely and totally humiliate me in front of all the other girls.
Finally they each went off to sleep in they own bedrooms as Mistress asked me if my first Pajama Party was everything I thought and wished it would be. I knew I better not complain, so I told her that I loved it and it was perfect.
I almost collapsed when she said that all her girlfriends loved it too and that we would do it again next Saturday at her girl friends house. I almost started to cry, but did manage to smile and thank her.