My First Prom was all that I wished for or could expect. But, as often happens at a Girl's Prom, things take an unexpected turn.
I apparently passed out after drinking too much wine. I am told that I passed out on the Bed and what came after was a Dream … or Was it?
As I awoke and I finally started to focus I felt my legs spread with a locking spreading bar. Standing around the Bed were many of the Girls from the Prom and they were giggling, laughing and in general making fun of me. I was both humiliated and scared. What was happening.
Then I remembered that I had seen Mistress Rosemarie at the Prom going from table to table and talking to all the women. Finally one of them said that they had heard that I was wetting my Bed at Night. She smiled and said she had a cure for that. Tonight was to be a Bed Wetting as none that I had ever experienced and after they were done, I would never think about being careless and wetting the Bed again.
They pulled me up and with my ankles spread and hobbling and being pulled was led back to the Ballroom were the Prom had been held.
Spread out on the Table was a second Prom Dinner made specially for a Sissy Girl like myself.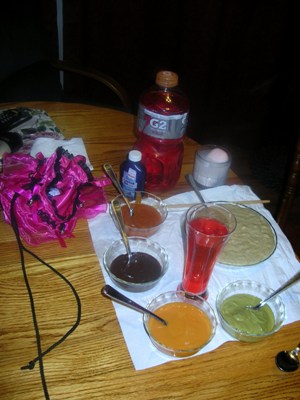 I sat down quickly as directed by the Girls and they explained what was on my Special Dinner Menu for Sissies. Baby Food (Cereal and Vegetables that was easy for me to digest and run through me quickly), Gatorade laced with excessive quantities of feminine Laxatives so that I would not get constipated and a bottle of Castor Oil for good measure. The Castor Oil would help with my constipation and also because they loved to punish me with this vile tasting laxative. My night was going to be a nightmare.
I thought if I was coorperative they might let me off a little easy. I raised my glass to toast them and smiled and thanked them for helping me with my lesson.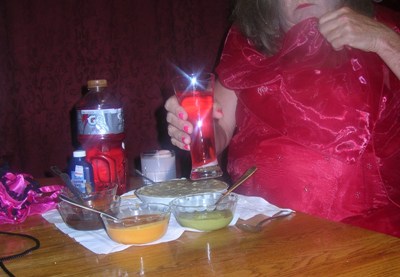 Then the punishment began. I was forced fed and the food was making me gag. I also knew it would come out even worst then it went in.
They took great delight in shoving down my throat the disgusting Baby Food and Gatorade, but they also had another treat. To make sure I was focused on my Punishment, they shoved a wet soggy bar of Pink Camey Soap into my mouth and I had to write the following short Paragraph.
"I have acted like a Little Sissy Baby Girl and wet my Bed. I will be treated like a Little sissy Baby Girl until I have learned to act like a young Lady and control my Bodily Functions"
I had 5 minutes to write this 10 times and if I failed to complete the correct number, they would be back again on another night to make me do it again. Well I failed both times, so I guess they will be back.
I had finally finished eating everything. It was disgusting and I was about to throw up every minute or so. My stomach was also starting to ache and my Bladder was full. They marched me up to my Bed again and threw me on the Bed. I must have passed out again.
My Last thought as I was about to fall asleep was that it was a Dream.
Then again … I awoke several hours later and my Prom Gown was removed and replaced with a Nightgown. Then I realized I was laying in a disgusting smelly Bed. My Bladder had emptied and I obviously had several occasions of Diarrhea. I started to cry.
I certainly am going to try to cure my Incontinence Problem before the Girls return.