As I was traveling to Fantasy Island on my next visit I was thinking about how much I had been punished and how much it had hurt and how much it was terribly humiliating.
I thought – How nice if it was I that was the Mistress and I was in charge of training and punishing the sissy clients.
The more I thought about it the more my sissy mind got the better of me. When I approached the Mistress of Fantasy Island I just blurted out that I wanted to be the Mistress of "The Institute for Cross-Dressing Punishment"
I was amazed when she just smiled and said OK.
I could hardly control myself. I followed one of her helpers to get dressed in what I thought was proper Mistress Attire. I even came up with a mask like Mistress Katzenburg's hood. Well, not quite – it was actually a pair of lacy thong panties. In my mind it was perfect though.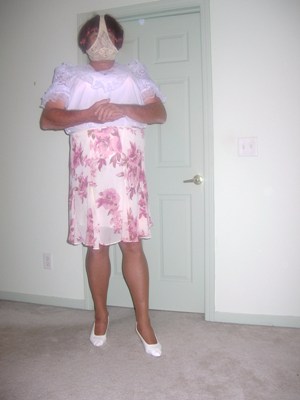 I was taken to the "Institute" and led into a room of sissy clients. I could hardly contain myself. I instructed one to bend over and immediately spanked her until she cried. Several others I inserted butt plugs into their sissy vaginas and issued other assignments.
How much fun was this?
Then the door opened and in walked Mistress Katzenburg. I almost fainted on the spot.
Her look made me drop to my knees and I started to cry and beg forgiveness. She told the other sissy clients to stop what they were doing and watch how a really bad sissy was punished.
She led me to her office with the other sissies following. In the Office she quickly bent me over her desk, pulled down my panties and gave me the thrashing of my sissy life.
I was sobbing hysterically. My poor little sissy Hiney throbbed so much. Finally she stopped.
Then, turning to the sissies, she showed then an anal bead plug and explained how it hurt very much being inserted and even worst when it was yanked out. On the end of this was a feminine soft wash scrubby and she called this the sissy punishment tail.
With a little cream she then shoved it deep into my sissy vagina as I screamed out in pain and humiliation.
Then I was led to the desk and had to sit down in the chair on the sissy punishment tail which shoved it deeper and I let out another cry.
Then a pair of lacy crotchless thong panties were pulled over my head to my further humiliation. I was then told I had to write the following punishment sentence 10 times because I had shown complete and total dis-respect toward the Mistress of "The Institute of Cross-Dressing".
"I have been disrespectful to Mistress Katzenburg. From this time forward, I will address her properly and exercise care in my responses to her to avoid offending her further."
With soap oozing out of my mouth and all the other sissy clients watching I finally finished and spit the bar of soap out gagging as I did. Mistress Katzenburg then smiled and told the other sissy clients they were free to do with me as I wished for the next hour.
It was not a good thing that I had been mean to them not an hour ago.