All my life I have loved Ballerinas. They were always so pretty and feminine and the Ballerina Attire was so beautiful. I don't know why I did not ask to be a Ballerina sooner. How can the Mistress of Fantasy Island turn this into an awful wish. I would get to wear a Ballerina's Tutu and dance with a lot of other Ballerinas.
That was my wish as I approached the Mistress of Fantasy Island. She smiled as always and said that she thought I would make a very pretty Ballerina.
Instantly some of her assistants appeared and led me to the Girl's Dressing Room. After a short while I reappeared and presented myself to the Mistress.
Mistress smiled and complimented me on how lovely I looked. I felt like a Ballerina. I felt so pretty and feminine and I loved my Tutu.
Mistress led me to the Ballerina Class Dance Studio and introduced me to the Instructress. Then with one of her smiles that I knew meant trouble, she told me to do as the Instructress said and I would have no problem. The way she smiled led me to believe otherwise. But, Oh Well, I did feel like a Ballerina.
I joined the class as the other Ballerina's just scowled at me. One said: "You are a Sissy, not a Ballerina. You don't belong with us Ballerinas. I was embarrassed and felt humiliated. My excitement was completely taken away by the mean girl.
I tried to make the best of it and enjoy my time as a Ballerina. It started out OK with simple exercises. I was awkward, but I kept up for a while.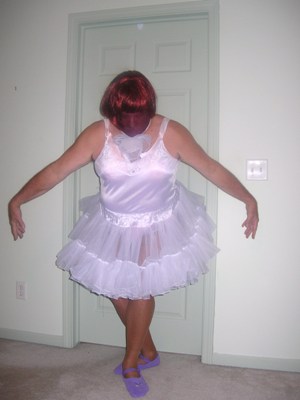 I fell down twice as the other Ballerinas practiced perfectly. Finally the Instructress stopped everything and told me that whichever Ballerina was the worst in practice was punished and had to finish the practice with leg and wrist weights to help her get stronger. The other Ballerinas giggled at my humiliation. She then strapped on 10 lb ankle cuffs and 5 lb wrist cuffs. She then clapped her hands and told everyone to get back in place as they all taunted me with "Sissy Ballerina".
The weights were so heavy and I could not keep up with the other Ballerinas. I fell down several more times and each time the other Ballerinas complained and made fun of me.
I was crying and when the Instructress finally came up to me I was whining about how unfair it was and how mean the other Ballerinas were.
Wrong thing to say. She turned and walked off to the Ladies Room as she said over her shoulder that whining was not tolerated and that Ballerinas do not cry.
She returned with a Pink Bar of Soap and shoved it in my mouth before I could let out another whine or cry. She said that I would complete the practice with soap in my mouth.
My Day as a Ballerina did not turn out exactly as I had fantasized.