The end of my last Fantasy was absolute retribution by all the other sissy clients for my power trip as a Mistress and the meanness that a real Mistress would not have shown.
I cried and screamed and yelled some very un-sissy-like words. I have to admit though that it was deserved.
Finally they brought me back to the Mistress of the Island and they themselves returned to the "Institutes's Training Center" which was located on the far side of the Island.
The Mistress of Fantasy Island then told me that since I had acted like a Baby, then I would be treated like a Baby
I was told to take off all of my sissy clothes down to a Bra and Panties. They left a boy's soak on one foot so all the other visitors to the Island would now I was the sissy boy.
I was then sent to a corner to stand and think
Next, because I had uttered unfeminine and inappropriate words, I had a bar of soap stuck in my mouth and sent back to the corner.
Finally I was dressed totally as a baby with a big big diaper and sent outside looking like a baby for the rest of the day.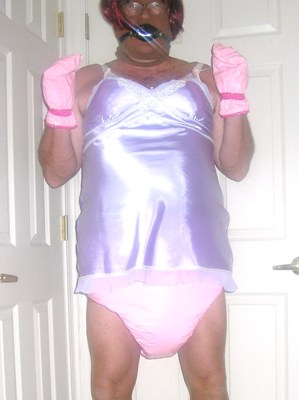 My next Fantasy will be to go home and sleep.