As I walked off the boat and up the Ramp the Mistress of Fantasy Island was waiting to greet me. With a smile, she asked me how she could help a Sissy like myself. I was humiliated as usual when she asked me like that, but with a stammer and a stutter I said that it was always my Dream to be a Bride and to be married to my Mistress.
She clapped her hands with glee and summoned several of her helpers. Looking at me, she said that before I became a Bride and before the Wedding, that of course there had to be a Bridal Shower.
They took me off to the Beauty Salon and started to prepare me for my Bridal Shower. As always I knew this was going to be embarrassing, but I wanted to be a Bride and a Bridal Shower was also a big part of my Dream. To be dressed up in a very feminine dress and to be given a Bridal Shower by all of my Mistress's Girlfriends was both exciting and humiliating.
I exited the Salon and felt lovely as I was escorted to the Bridal Shower Reception at the local Restaurant. I paused before the doors were opened and I entered.
Even though it was my wish, I still was embarrassed and humiliated as I entered the room filled with Mistress's Girlfriends. I was very self conscious as they clapped and also laughed at what a Sissy I was.
I had to mingle with all the women as they asked me very personal questions about my Cross-Dressing. My face was a constant shade of Red.
Then after drinks and food it was time to open my Bridal Shower gifts, which I knew would further embarrass me.
I sat on a chair in front of all of them and started to open them. The first presents were feminine negligees and the Girls totally embarrassed me saying how feminine and pretty I would look as my Bride had her way with me.
Then the really personal funny gifts to really embarrass me.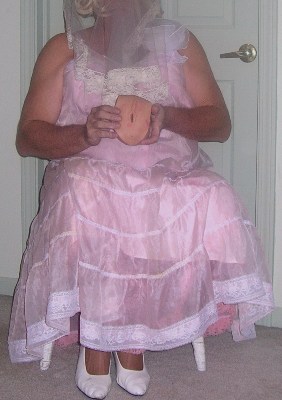 As I opened the next box inside was a rubber Vagina. I blushed like the sissy girl I was. The Women all started to laugh with many comments like – "You will need to practice for servicing your Mistress" and "Strengthen the tongue through practice" and "Give us a demonstration of how to please a Mistress". I was mortified.
I put it back in the box and opened the next Present with dread knowing it was not going to get any better.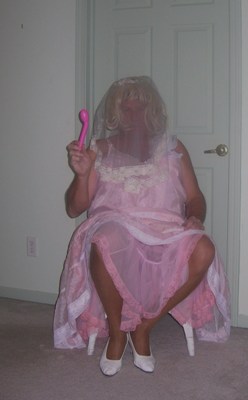 It was a pink vibrator with a huge bulbous end. The Ladies really howled with laughter now. The comments started coming. "Your Mistress will love that when your tongue is tired." Your Mistress can use that on your Sissy Vagina to loosen you up." "You think that is big, you should see your Mistress's Strap-on.
I wanted to crawl into a hole. Then the women started a chant of Demonstration .. Demonstration and out came the vagina and the vibrator. The rest of the Bridal Shower was all about the Girl's fun and pleasure and all about my pain and humiliation.