I ask myself how I ever got myself into this mess. All I did was request a few months off to take care of some personal Business. My re-instatement has become long and trying. The Moral of this all is that all sissy clients of "The Institute for Cross-Dressing Punishment" should realize and accept that they are naughty and that this should never be a part time experience, but must be dealt with on a continual basis. I will think twice about asking for a little time off the next time. But then again, I never seem to learn quickly. However, back to the task at hand.
I am restarting my assigned trips to Fantasy Island. This time the script is dictated by other clients and Mistress Katzenburg.
As I approach the Mistress of Fantasy Island she informs me that she wants to go to the Fantasy Island Casino and will teach me to be a High Roller. I am whisked off by her assistants to dress for the occasion.
I am to wear a slinky dress, a large bra and forms and a matching thong. I present myself to the Mistress.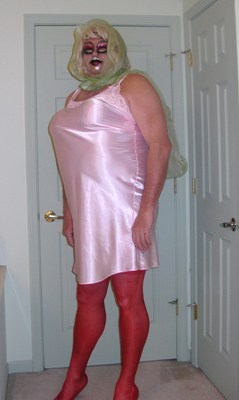 Let me back track a little please.
I was taken to the Fantasy Island Salon to dress. First was the large bra and stuffed to overflowing. Then a thong to match. Well, not quite match. One of the assistants loved the lacy red thong, so she insisted. Not my fault.
As I modeled for the girls I was really embarrassed which just added to their delight over my humiliation.
Then the slinky Dress. I felt totally naked even with the Dress, which covered barely more then a slip. I begged for at least a little more cover and they relented. They gave me a wrap to wear. Not much, but it covered a little. It did accentuate my stuffed breasts which was humiliating. They of course just giggled.
I felt naked, but I was ready to go. The Girls all stood there smiling and I knew more trouble was to come and it did.
One of them handed me a Fleet Enema and the other stood there giggling with several diapers in her hand. I was instructed to pull down my thong and give myself an enema. How humiliating with them all watching. Then they through diapers at me to put on. At least they gave me three as I knew that I would definitely need protection. And I did.
I quickly left the giggling Girls and ran (as best as I could in High Heels) to Mistress. She smiled and led me to the Paradise Island Casino. She explained that I was a special sissy High Roller and that they had a special table Dice game just for sissy clients of "The Institute".
She led me a table in the middle of the Casino as other customers laughed and pointed at me. Very Humiliating. Then I saw the Table and gasped as I saw there was no money, just things like a dildo, Castor oil, soap, baby food, Oatmeal and Gatorade. I could only imagine what these were for, but I knew I would find out.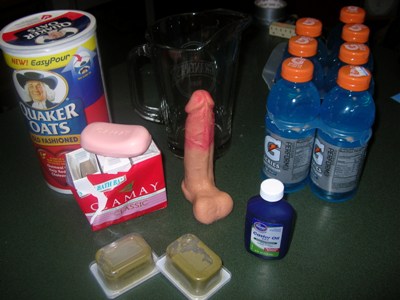 Then the Rules were explained and I really choked.
2 – Snake Eyes – I was to soap up a large dildo and practice my oral technique for 2 hours. 3-5 – Cooling Off – I was to pour a large pitcher of ice water down the front of my diaper. 6-9 – Keep It Up – Finish of a 32 oz Gatorade and a jar of baby food – strained peas. 10-11 – Hot Hand – I was to take a gob of Icy Hot and reach into my diaper and stoke my sissy clitting until I spurted cum. 12 – Boxcars – I was to lather up a bar of Pink Camey soap and hold it in my mouth for a 1/2 hour.
This was really a no win situation as one roll was worst then the other. I was to roll until I reached 21 and then there would be a bonus activity or should I say punishment.
Having no choice I made my first Roll. I rolled a 6. Gatorade and baby Food. ICK!
Disgusting, I hate Baby Food.
An hour later I made my next Roll. Oh, that was another Rule. I could only Roll once and hour to prolong my punishment.
I rolled a 4. Ice Cold Water. I was already shivering. At least Mistress took me to our Casino Room and let me stand in the Tub. Thank You Mistress.
It was so cold. I was shivering. I stood there for several minutes trying to warm up as the water dripped through. Then, the Gatorade started to react. I had to pee and knew I could not stop it. I urinated into my diaper. How humiliating as Mistress watched and smiled. I least it warmed me up. It was another 1/2 an hour before the dripping stopped and I could get out of the tub and go back to the Casino. As we walked back to my Casino Table I must still have been leaking as the women in the Casino smiled knowing I had a diaper on and it was wet. More and More humiliating.
My next Roll was Snake Eyes. A two. Out came the Dildo and it was place on a table in the middle of the Casino with all to watch and it was thoroughly soaped up with Pink Camey Soap. I was told to get at it as the Women gasped at my disgusting Act and the men clapped.
I was to practice for a full two hours, but I could not. After only 20 minutes I was gagging from the Soap (Mistress made me re-soap the Dildo every five minutes) and my mouth was aching. I begged to be allowed to stop. Mistress relented, but said only if I promised to accept 3 half hour punishments from Maggie Rae (who had sponsored my trip to the Casino) and of course with the guidance of Mistress Katzenburg as to what the additional punishment my be. I only wanted to stop and I promised to accept whatever was given me.
On to my next Roll. I hoped it was not another Snake Eyes. I rolled and 8. More Gatorade and Baby Food. As Icky as that was, it was better then Dildo practice.
I managed to eat my Baby Food peas using the Gatorade to wash it down.
I had reached 20 and told Mistress I wanted to stand on 20. She ordered up a Large Bowl of piping hot Oatmeal and handed it to me. I was to stuff the hot Oatmeal down the front and back of my Diaper. I also had to do it standing in the middle of the Casino for all to watch. I started stuffing as fast as I could, but it was so hot I was crying as the other Women and Men where laughing. When I was finally done Mistress led me from the Casino. I was Squishing to every-one's laughter as I walked. It was so so humiliating. Mistress asked me why I did not ask what the other punishments were for the other numbers. I told her I was sure they were all horrible and I did not want to know. She just smiled.
We got to our room and I was so relieved. All the way I was leaking and squishing and everyone was laughing at me. We got to the room (we were staying at the Paradise Island Casino Hotel) and Mistress gave me my Pink Nightie and Sleep Scarf that she had bought. I was so happy to be in bed.
Until the Gatorade started to work. Also – The Fleet Enema may be slow, but it always works. Within an hour I was peeing in my diaper and finally exploded from my sissy Vagina. What a mess. It was a long night.
Needless to say, I did not sleep in that morning. I was up as quick as I could when Mistress allowed me out of bed. I was so glad to take off the disgusting diaper and clean up.
As we were walking out of the Casino Mistress said that she had a lot of fun and we should come back soon. I wanted to say no-way, but I knew that I had little choice and when she wished it, we could come back. Not looking forward to that.