Slowly but surely, pieclown has been working on her punishment:
Night 1 (Nov 16):

Night 2 (Nov 18):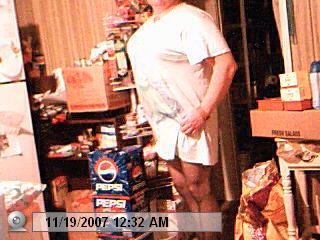 Night 3 (Nov 20):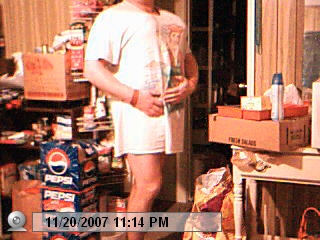 Night 4 (Nov 23):

Night 5 (Nov 25):

Night 6 (Nov 26):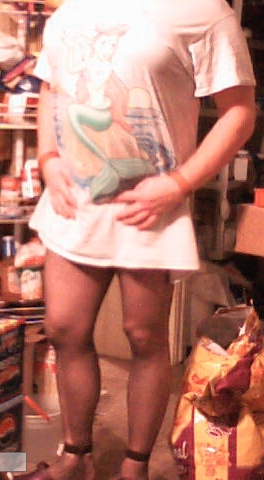 Unfortunately, I haven't been all that enamored with the results that she has been turning in–all related to the simple instructions that were given:
In addition, for wasting my time, you are to spend several nights in a row dressed and bound. At a minimum, you will need to wear a bra, large forms, panties, hose, a night gown, wrist cuffs and ankle cuffs. For a night of sleep to count, you must email a picture of you ready for bed before you actually go.
This is after I implored her to check the directions in a personal email to her on November 8th:
You may also want to check that you are completing the punishment as prescribed and sending sufficient pictures.
Some of this may seem fiddly, but she wouldn't be punished in the first place if she did things right the first time.
Apparently pieclown doesn't realize that "nights in a row" means the same as "consecutive nights". Monday, then Tuesday, then Wednesday. Not Monday, then Wednesday, then Saturday, if I feel like it. At least with the first six, there were two nights in a row. Lets see if she can keep it up tonight.

The date on the pictures looks tacky and is totally unnecessary. I know when you were dressed for bed based on when you sent the pictures. That's why the directions state "you must email a picture of you ready for bed before you actually go".

In her latest picture email, she noted that she could make bigger pictures, but wasn't going to send them to me. Perhaps she isn't reading her graded assignments: "…all of the the pictures are all tiny! This is unacceptable." This is one of the reasons you're doing this punishment now! Of course I want the bigger pictures.

Apparently I am supposed to trust that in all of these pictures she's wearing "…a bra, large forms, panties…" since THOSE ARE NOT SHOWN IN THE PICTURES.
So two of these (#1 and #4) are a direct result of not reading the instructions and another (#3) is the result of not reading her previous punishment results. Maybe her next assignment should involve reading and noting comprehension by joining the conversation. Oh wait, that was her first assignment. (Which as far as I know is still incomplete.)
pieclown, I am going to stop short of calling this experiment a total failure, but it is getting close: YOUR WORK MUST IMPROVE.
The Facts of Life:
You are to continue this sleeping arrangement, correctly, until your assignment is complete. Let me know when you think you are done.

You are to post a suggested atoning punishment–what you are willing to do to show your devotion to your tasks (in addition to what has already been assigned). It will be up to the readers to determine if it sufficient. If so, you will atone by completing the punishment. If not, you will atone by completing my augmented version of the punishment. This atoning punishment is to be submitted as a comment before you send me another personal email.

You are to always sent the highest quality pictures.

To save my staff work, you will rename all of your pictures to the proper format before sending them to me: pieclown_XXYYZZ-AAA.jpg (where ZZ is the year, YY is the month, ZZ is the day and AAA is the number of the picture that was taken, starting at one each day).
Things can only get better.