I have been instructed by Mistress Rosemarie to share some of the fun and games and activities that I did over the summer. This is once again a lesson that I must endure by sharing my experiences and humiliations because I am shy. I should have learned by now that I can not hide my humiliations and if I had shared just one with pieclown I may not be having to post several. Mistress Rosemarie has set a quota of 1 or 2 posts a week of my many humiliating days I spent on my summer vacation. This is to go on until Mistress Rosemarie has felt that I am over my current phase of sissy shyness. Of course I am sure that Mistress Katzenburg may also have some things to say.
One day a package arrived in the mail and Mistress Rosemarie was very excited. It was a present she had ordered for me for my birthday in the fall. She smiled as I opened it and giggled as I turned red with embarrassment. It was a little girls fancy frilly party dress. She took my hand and led me to the bedroom and proceeded in telling me how to dress. I put on a stuffed bra, a crinoline and this very frilly baby blue little girls party dress. No one, not even a girlie girl would ever wear this. For a sissy to expose herself like this is beyond humiliating. I also put on red thigh high stockings, a very big stuffed plastic diaper because I was still a little baby and of course cuffs so that I would behave. I stood in the bedroom totally humiliated as she took pictures for my scrapbook.
My humiliation was only the beginning of our Mistress – sissy evening
I was then told that on my birthday Mistress Rosemarie would be inviting all of her friends and even some my college girlfriends to come to my birthday party to see what a fine sissy I had become and to help me celebrate my birthday. I blushed when she told me that I would not be receiving any presents, but instead that I would be asked to give a special present to please each and every Lady and each of my old girlfriends. I could not tell if she was serious, but I was really afraid that she would actually invite them. I was told to stand still and think about what pleasurable gifts I might give each one of them and she would be back to listen in an hour or so. I could hardly think as I thought about how humiliating this would be. I started to try to think of ideas because I knew that Mistress Rosemarie would quiz me.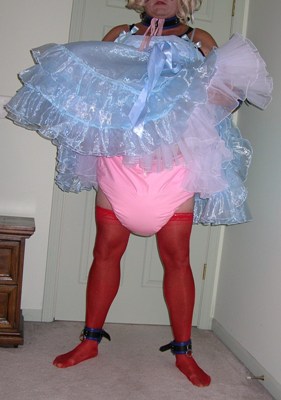 When she returned I was asked to relate some things that I would do.
I repeated a speech that I would recite telling all the girls what a sissy I was and that I liked to wear sissy frilly girly dresses. That would surely bring smiles and giggles from the Ladies. Mistress Rosemarie nodded and told me to continue.
I would curtsy and serve them each drinks.
I would swear absolute obedience to each and every one.
Then
I would pleasure their vagina's, massage and lick their strap-on's and accept violation form each thanking them profusely.
Mistress Rosemarie smiled and said that it was a beginning, but that I should continue to come up with more. Then she asked me what each little girl always received on the their birthday. I said I did not know.
She smiled again and said, several spankings from each of the girls of course.
I bent over exposing my very big diaper.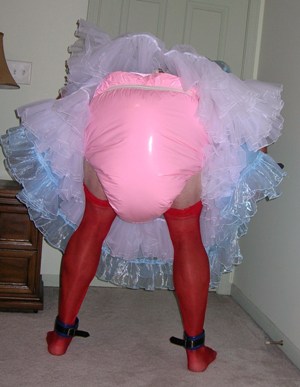 She pulled it down and proceeded to spank me as I cried like the little girl I was. I do hope she changes her mind about my party before October.
One of many fun filled sissy billy days this summer.