Over the past month, I have been diligently completing Babyface II, my most recent punishment, as penance for my shortcomings during my reinstatement into The Institute. As I'd mentioned in my last post, Babyface II consisted of two repeats of the initial assignment—unpleasant, but by no means terrible. Together, the two repeats took up nearly two full days—two days of a month long punishment. The rest of that interim period has been what I considered the real punishment. As the punishment dictated, I spent at least 10 hours a day diapered, at least 14 hours a day in my extremely heavy bra and forms, and while I fortunately escaped any additional "tasking", I still had the intense summer heat to make everything just a little bit worse. Through the course of my 27 day punishment, I went through nearly three packs of diapers, found myself sitting in far more wet diapers than I would have liked, and on a few especially unfortunate occasions, I found myself going to bed and waking up in a thoroughly messy diaper—all experiences that I could really do with avoiding in the future…
The Daily Lessons in effect during this period included spending four hours per day in my largest bra and forms, followed by a "Dressed for Bed" period of 10 hours every night during which I was to be diapered and wearing my pink footie pajamas (still with the bra and forms). This made up my routine for the first week, and was bad enough.
It should always be known, however, that as bad as things may seem at any given point in time—they can always get worse. After a week of my punishment, I was starting to become lax in the regular uploading of the photographic evidence that I'd previously promised to Mistress Katzenburg. As a reminder of my obligations, she added an additional stipulation to my Daily Lessons—while I was "Dressed for Bed", I would also be required to wear the ankle weights I'd worn for my In a Row assignment. You can trust me, it's bad enough to spend every night in diapers and forms, and adding 5 pounds onto each ankle doesn't make things any easier.
I managed to soldier through the first 20 days with only moderate to severe discomfort—it was bad, yet I survived. It was about time, however, for another stipulation in my punishment. Ms Lisa's schedule was becoming more and more busy as time wore on, meaning she would not be available to perform my last Babyface repeat at the end of the interim period as originally expected. With this development, I petitioned Mistress Katzenburg to allow me to perform the final repeat on my own, which she agreed to with one condition:
To put back in the randomness of having to wait, at the end of the 20 days you will roll 2 dice and spend that many days waiting for your ending assignment.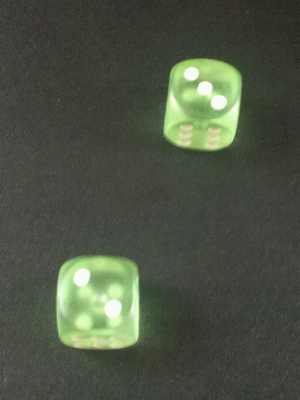 On the Monday the punishment period was set to end, an additional 5 days were added from the dice, setting the first day I could finish my punishment to be that Friday. All week the weather was hellishly hot, with heat indexes regularly at and beyond 100-110 degrees, and worse yet, my weekend was already booked full. That little inconvenience pushed the completion of my final assignment back even further yet.
A full week after my original 20 days had ended, I wanted nothing more than to just get my punishment over with and take what was coming to me, and yet the delays continued. The first two days of the following week were the hottest yet, and I knew that if I attempted to complete my final punishment then and there, I would have probably stroked out from the heat. So bad the heat was that I completely abandoned the other requirements of the assignment in the name of health and wellness—I contacted Mistress Katzenburg saying as much, though I still don't know what possible consequences may remain from my decision. All I know is that on Wednesday, June 8th, the heat finally broke and I was able to engage in the torments of what was hopefully the last Babyface repeat ever. When all of this is done and resolved, I really don't care what my next assignment is, or what it entails—as long as I never have to repeat Babyface ever again…