It has been a while since I have posted an update for The Institute, for a number of reasons—some good, some quite bad. When it comes down to it, I have broken one of the most important rules of The Institute: When a client will be out of town or unavailable for an extended period of time, they must notify the Mistresses of The Institute ahead of time. I did not do that, and I have been away for an extended period of time, during which I shirked my Institute duties. That was the bad part. The delightfully good part is that, over the past few months I have been developing a closer and closer relationship with a good friend of mine, which has rapidly become something far more special. While I was away from the Institute, I was instead with my new Mommy Venus (who is extremely eager to step up the intensity of my already humiliating and painful Institute activities) who made sure that my time away was not spent pleasantly…
Even before we met, Venus enjoyed dressing, training, and tormenting sissies; though since we've met she's taken on an almost terrifying interest in torturing and tormenting sissy babies—a phase that I'm not sure I'll ever be able to outgrow now. During the time we spent together, we've already managed to elbow-grease together a strong, sturdy bondage crib that I spent very unpleasant swaths of time in as well as outfits that highlight my position. Hours at a time spent in dirty diapers, being force fed prune juice, laxatives, baby food, and mushy soap were just some of the other highlights of my time away from The Institute as well. She took an immediate liking to the enormous breast forms standard to most Institute punishments and is already devising a way to create heavier, more jiggly forms for my increasingly humiliating outfits, outfits that are no longer going to be confined to just behind my closed doors.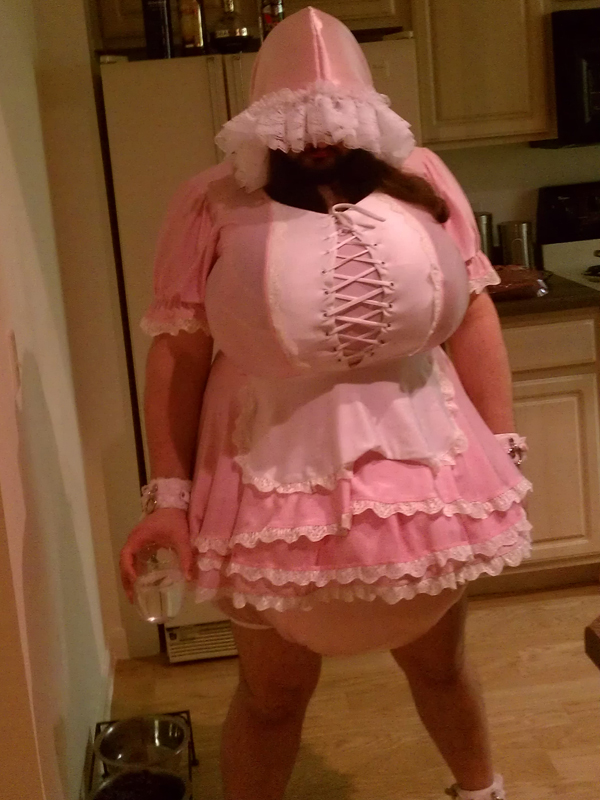 We already attend fetish parties together on an increasingly regular basis, and she will be taking control of my wardrobe for future events—a wardrobe that I can only imagine will get worse from here. To make matters worse yet, coming up in two weeks we are attending a far more sizeable fetish event—SINSations in Leather in Chicago—where instead of being paraded around in front of 60-80 party goers, it will instead be an audience closer to 600, and she is already furiously planning what we will both be wearing. It should be, if nothing else, an interesting event.
Venus and Mistress Katzenburg have recently started a dialog, and if I manage to remain a member of The Institute in good standing following my latest infractions, I expect Venus to be taking an extremely enthusiastic (and downright evil) hand in my future activities, assignments, and especially my punishments, which I know she is looking forward to. Depending on the eventual outcome of their dialog, it could be an extremely terrifying future that I have to look forward to as a client of The Institute…