At one time I thought how great it would be to be a Director of Nursing. Even better the Director in a Private Clinic where there would be no regulations. I would be the Boss of all those Women and would be able to get back at all those women who did not understand me and always seemed to be domineering and dominant over me.
So, on this trip to Fantasy Island, I said that I wanted to be the Director of Nursing of a Private Women's Clinic of only Female Doctors and Nurses. I was granted my wish and showed up for my first Day of Work as Director of Nursing. I even dressed appropriately as the Director of Nursing. White Blouse, pale pink Skirt and a Red Crinoline to add a feminine touch, stockings and white 2″ High Heels.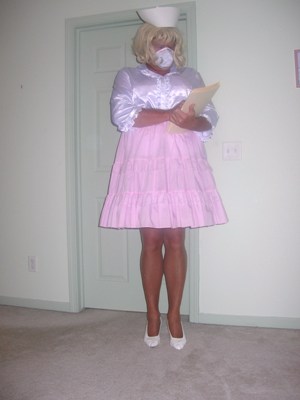 A tough lesson to learn when you visit Fantasy Island is to be very specific in what you wish. Mine did not turn out the way I thought it would.